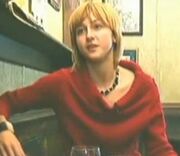 Katie Ellwood, also known as Bertie, is an English writer who wrote the story for both The Getaway and The Getaway: Black Monday. She worked alongside Brendan McNamara when writing the story for the first game. In addition to this, she also played and voiced Mark Hammond's wife, Suzie Hammond, in the first game, because it was only a small role.
Trivia
[
]
Even though Katie was involved in both games, she didn't need to provide a voice, or play Suzie Hammond in the The Getaway: Black Monday because her character has no dialogue or even character movement as she only appears as a dead body.
Katie was interviewed and featured in the behind the scenes video for The Getaway: Black Monday, The Making Of.
External Links
[
]