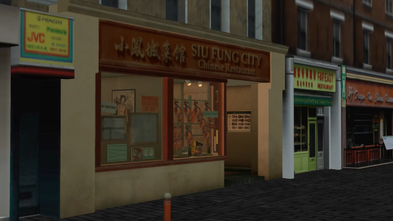 The
Siu Fung Restaurant
is located in Chinatown and is owned by
Shan Chu Lee
and the
Triads
.
The restaurant is seen in Missions 5, 6, 11 and 16 in The Getaway. In Mission 5, Taxi for Mr Chai?, Mark Hammond must drive a dead Triad called Johnny Chai, over the to restaurant and drop his dead body off by the front entrance. In Mission 6, Out of the Frying Pan, Mark escapes from Chinatown and this restaurant with lots of Triad's chasing after him, for revenge of Johnny Chai's death. In Mission 11, The Prodigal Son, Shan Chu Lee is seen eating inside the restaurant with several of his loyal body guards including Fu Shan Chu and Kum Dong. He receives a phone call from Charlie Jolson, who tells him that he has captured Mark Hammond and is going to hand him over to the Triads at the Sol Vita. Finally the restaurant is seen in Mission 16, Painting the Town Red. Frank Carter arrives in Chinatown to find the Triad's and Yardies at war with each other. During the mission, Carter can go inside the Siu Fung Restaurant and kill a couple of Triad's and Yardies inside. An AK47 can also be found by going down the stairs inside the restaurant. Due to the Triads being deceased at the end of The Getaway, it is likely that this restaurant was put up for sale and bought by someone else.
Siu Fung City 小风城 translates from Cantonese into English "Small Wind City"
Mission Appearences
Edit
Community content is available under
CC-BY-SA
unless otherwise noted.